In Memory
Cliff Watters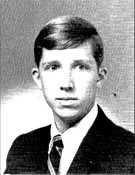 CLIFFORD R. WATTERS: Clifford R. Watters, 42, New York City, formerly of Kansas City, died Feb. 3, 1994, at a hospital in New York. Memorial services were in May in New York City. The family suggests contributions to the Good Samaritan Project, Kansas City. Mr. Watters was born in Kansas City, and moved to New York in 1969. He was an actor and tap dancer.
Survivors include his parents, John and Lenora Watters
of Kansas City; and four brothers, Jack Watters,
Klamath Falls, Ore., and Dennis Watters,
James Watters
and Greg Watters
of Kansas City; and four nephews and a niece.
(From the Kansas City Star, provided by Linda Edwards Paul)