In Memory
Mark Wheeler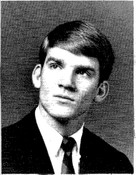 Mark died in a commuter plane crash which had been bound for Utah; the crash occurred about ten miles east of Durango, Colorado, on January 19, 1988. Mark had married Maureen Gepford in KC on 01/25/79, but they were divorced before he was killed. He had two daughters at the time of his death: Michelle, 12, and Katie, 2. After graduating from the U.S. Naval Academy with a degree in Chemistry, Mark served for five years on nuclear submarines including the USS Halibut and USS Spadefish before leaving the Navy in 1978. He also received a Master's degree from University of Missouri at Kansas City. He then went on to work for Mobil Oil in Louisiana and finally Western Gas Processors in Denver, Colorado for whom he was a mechanical engineer at the time of his death.
--Information provided by Don Bowerman

We will always miss Sir Lancelot; he will always be in our hearts!