In Memory
Margaret Sauer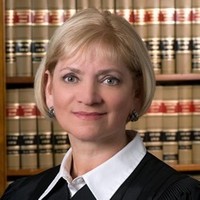 Margaret Sauer ("Meg" as we knew her), a longtime Jackson County Associate Circuit Court judge, passed away on February 9, 2014, after fighting brain cancer.
Obituary Published in Kansas City Star from Feb. 12 to Feb. 13, 2014:
Judge Margaret L. Sauer, 62, passed away February 9, 2014 in her home, where she has been surrounded by devoted friends and loving family, nine months after being diagnosed with brain cancer. She was truly a remarkable woman whose energy, intellect, and smile will be missed by the many people whose lives she touched. She was born February 25, 1951 in New York City to Dr. Gordon and Mary L. Sauer. The family later moved to Kansas City where Margaret graduated from Southwest High School, Class of 1969. Margaret committed her professional life to civic service - first as a teacher, then as a lawyer in the public sector, and finally as an Associate Circuit Judge of Jackson County. Margaret earned a Bachelor of Science degree in Special Education from the University of Missouri- Columbia, followed by a Master of Science degree in Special Education from the University of Kansas. She taught in the Kansas City Public School District for several years, and then administered the hospital- based school program at Children's Mercy Hospital. Margaret earned her Juris Doctorate from the University of Missouri- Kansas City in 1983. She served as Legal Counsel for the Jackson County Public Administrator and then worked for fifteen years in the Circuit Court's Probate Division as Legal Counsel from 1985-1991 and Deputy Commissioner from 1991- 2000. In May 2000, Margaret was appointed to the 16th Circuit Court of Jackson County, Missouri as an Associate Circuit Judge by Gov. Mel Carnahan. Margaret was awarded the University of Missouri-Kansas City Law Foundation Public Service Award in 1994. She was president of the Association of Women Lawyers in 1996 and chaired the Probate and Estate Committee. In 2000, she received the Judicial Recognition Award from the Association of Women Lawyers of Greater Kansas City. Margaret contributed in many ways to the good of the Kansas City community. She was a board member of Lawyers Encouraging Academic Performance (LEAP), a group affiliated with Operation Breakthrough. For many years, she was a dedicated mentor and generous supporter and was honored as Queen of the L.E.A.P. Mardi Gras. For many years, Margaret was a member of the Lyric Opera Guild as well as an Annual Fund donor and subscriber. She was a sustaining member of the Junior League. Margaret loved to travel! Margaret would visit lifelong friends, wherever they lived, and go with them on trips. With friends and family, she explored Mexico, Canada, Switzerland, Austria, Morocco, England and the Caribbean Islands. With her church group, she had traveled to the Holy Land. She took considerable pride in the family farm she had purchased when her father died, mowing on a tractor, walking with her dogs Jack and Willow, and entertaining her beloved friends. Margaret was preceded in death by her father, Dr. Gordon Sauer, her husband, Doug Balcombe, and her brother-in-law, Mike Doyle. She is survived by her stepchildren, Jeff, April and Colin and their families; her mother, Mary Lou Sauer, her sisters, Amy Doyle and Beth Sauer, and her brother, Dr. Gordon Sauer and his wife, Teresa; and her nieces and nephews - Jennifer (Andy), Mike (Liza), Brian, Rebecca, Gordy (Claire), and Adam (Kinzie) and their children - they brought so much joy to her life and her legacy will live on through them! The family is grateful to her compassionate staff of Kansas City Hospice. The family also wishes to express their deep appreciation for Margaret's friends for their on-going support, care, and devotion so apparent and welcome to the end. Margaret was a member of The United Methodist Church of the Resurrection. Visitation will be at Mount Moriah & Freeman Funeral Home, 10507 Holmes Rd, Kansas City from 6:00 to 8:00 p.m. on Friday, February 14. The memorial service will be held in Wesley Covenant Chapel, East Building, The United Methodist Church of the Resurrection, 13720 Roe Ave., Leawood at 11:00 a.m. on Saturday, February 15. In lieu of flowers, the family requests memorial contributions may be made to Kansas City Hospice or The Nature Conservancy.
Excerpted from article in KC Star, 2/10/14 by Brian Burnes:
"She had so much institutional knowledge," Jackson County Presiding Judge Marco Roldan said Monday. "She had worked either with the court or in conjunction with it for essentially 30 years.
"That is not easy to replace."
Then-Missouri Gov. Mel Carnahan appointed Sauer to the circuit court in 2000. Before that, she had served as the court's deputy probate commissioner since 1991 and as the probate division's legal counsel since 1985.
Sauer proved a tireless colleague, said Roldan, who graduated with Sauer from the University of Missouri-Kansas City School of Law in 1983.
Associate court judges must handle large caseloads, Roldan said. Sauer met the challenge in that role, as well as during her occasional rotations as the judge in charge of initially processing all the court's criminal cases.
"That assignment is not an easy one," Roldan said.
Sauer recently had volunteered to serve another rotation not long after Roldan had been named presiding judge. Roldan said another judge had retired at that time, and he had been unsure whom he would assign to that position.Sauer volunteered for another term, Roldan said. "She just called me up and told me she was willing to stay for another year," he said. "She was obviously doing a great job over there, and it saved me from a huge dilemma."
Sauer had been active in the Kansas City-area legal community, serving as president of the Association for Women Lawyers of Greater Kansas City in 1996. Before earning her law degree in 1983, Sauer taught school for several years in the Kansas City district and had administered the school program at Children's Mercy Hospital.