In Memory
Carder Manning (Choir Director) VIEW PROFILE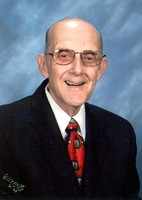 He began piano lessons at age seven and at age ten began singing in the Boys' Choir at Grace and Holy Trinity Episcopal Cathedral, at the request of Mabelle Glenn. Mabelle was the Choir Director at the church and Director of Music in the Kansas City school system, when she heard Carder sing at Gladstone Elementary School. This began his love for and desire to teach music. He taught at William Chrisman High School (1956-1958), Southeast High School (1958-1960), Southwest High School (1960-1969), and Penn Valley Community College from 1969 until his retirement in 1995.
https://www.dignitymemorial.com/obituaries/belton-mo/carder-manning-7433469
Click here to see Carder's last Profile entry.